to veil or not to veil?
we were talking veils the other day and remembered how enamored we were with Crystal's FANTABULOUS (fishnet/flapper/french lace/russian netting?) veil...

love that diamond pattern!
oh my!!
remembering hats in our grandmothers' closets that used such netting somehow makes this style seem vintage + timeless yet such a short sassy veil is somehow fresh + modern all at the same time and look, THIS NY Mag article describes just how we feel . . . oh AND this post and this Q+A in Brides.com shed light on the right search term "birdcage veil"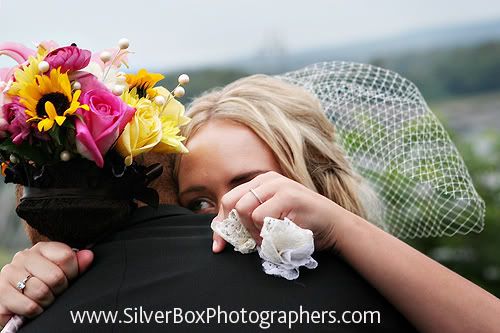 nail the search term and everything else just falls in place, like finding
flicker groups
and ultimately finding just the right resource at the right price:
'BirdCage Veils' via birdcageveils.com
we say YES!
so if sassy, sexy + confident describes YOU, consider and CALL!
(BirdCage AND SilverBox) ~ oh we'd love it; we've got lots + lots of ideas . . .
PS so you can see above that nick lifted crystal's veil for The Kiss . . . and it's so cute that way, too. but you could even go with a wedge of a veil that falls just below the eye, add a feather fastener
(you flapper, you!)
This site, AisleDash.com
even lists
DIY instructions
, but
posts an image

(below)
from
www.unveiledbridaldesigns.com. oh the options!