the word for the day:
dramedy
.
that's my life.
i just saw it on wikipedia.
not my life; "dramedy" ~ surely i'd heard it before, but guess i'd forgotten about ol' dramedy.
the word was almost FLEISCHMAN because tycho (our 8 year old who now wears glasses!) says "fleischman" so darn cute.
why does he say fleischman? well . . .
[THIS is going to take some background, i can tell.]
so my ULTIMATE GOAL is for you to meet mike + mary.
i led with their slideshow in case you just couldn't wait.
but i'm thinking of taking you to hope town via cicely, alaska . . .
so years ago, paul + i chose to not have cable tv in our house.
at the time, it was probably a combination budget decision with us wanting to limit TV content
(and thus limit TV time in general)
for our kids.
our goal was to have the kinds of kids who don't sit around and watch cartoons 24-7 but would play outside or play with each other, or build legos or read or pretty much anything instead.
BUT we didn't want TV in general to get some sort of sacred fruit appeal.
so that was the compromise: no cable. thus the cartoons you can see in our house air through PBS -- except for saturday morning. seems good.
THIS you may know:
there are times when there is NOTHING on network tv.
and though avery, zoe, and tycho do
read
and build blocks (tycho) -- and crafting is avery's big thing, sometimes they're in the mood for tv...
...yet nothing's on.
the result: they've each amassed some quirky dvd favorites. the first time tycho saw an episode of
northern exposure
he was 6 years old and he LOVED it.
(btw: he called it northern explosion instead.)
what a funny show for a little boy to love. no battles. no action. just stories.
mike + mary . . . never seen it.
neither one of them. (!)
realizing you (fictional blog reader) might have more in common with mike + mary than paul and i, here's a bit of background:
cicely, alaska was the setting and fleischman a young jewish doctor who had just finished med school in NY + was brought to town by the mayor, a former astronaut: maurice.
the town needed a doctor. some sort of deal was made to forgive joel fleischman's med school loans for serving this under-served population.
most people and packages got to cicily via bush plane. maggie was the pilot. LOVE maggie!
she sometimes loved, sometimes was driven crazy by joel fleischman.
the mayor, (remember, maurice) also happened to own the local radio station, the newspaper and most of the land.
he was kind of a development/entrepreneur guy ~ rich, semi-famous; sort of materialistic; sort of dumb.
the monetarily poor (but amazingly rich in life's important ways) heart-throb of a guy was the resident philosopher who also happened to be an ex-felon, the minister i believe, and the local DJ ~ chris (who later played aidan on sex and the city, yum!) his on-air ramblings often tied the story together.... generally profound yet very down-to-earth ideas built upon chris' interpretation of plato or freud or dr. suess on his morning show.
there was one restaurant/bar and no matter where they went, newcomers and town residents alike would cross paths, interact and reconnect with the same small group of folks again and again.
ruth ann. ed. maggie. holling + shelley (they own the bar) . . .
story arcs. lots of history.
funny clashes between native ways and how things might be done on the "outside" ~ lots of "fish out of water" stuff.
but lots of cohesion.
lots of love.
cicely, alaksa -- it's isolated. colorful. filled with characters. but ultimately, not REAL.
but HOPE TOWN the 500-person settlement on the abaco islands ~ real and
better
!
warm. BEAUTIFUL! and outrageously colorful in so many fabulous ways.
mary actually said,
"i've never felt more welcomed anywhere i've ever been. this is like a caribbean mayberry"
-- and she's right, but in part because she doesn't have the cicely, alaska analogy to draw upon. :D
and paul and i were lucky enough to spend a week there, staying in the mission house with mary.
you'll see IT in the slideshow. found it yet??
mary + mike hadn't seen each other for a few months AND NOTE: the slideshow opens at the marsh harbour airport. it might not LOOK like an airport at first. all the seating is OUTSIDE. and when you land and walk in from the tarmac, there's a sign above the door that says "Welcome to Marsh Harbour. Rotary Meetings Thursdays at 7" -- i so wanted a picture of that sign, but there was a "no-pictures-because-of-security rule" so i said "yes sir" and tried to commit it to memory.
and then we took a FERRY to get to hope town.
know what else hope town reminds me of?
iselsborough, maine. (think: gina + jolly from this summer!)
wow, what a year 2008 has been.
lots of hope town residents don't own a car. it's a little island ~ there's no need for one.
though most have bicycles and a boat ~ there IS a need for a boat! lots of golf carts, too.
someday (hopefully very soon) i'm going to post EVEN MORE images ~ a people and places of hope town thing.
mary came to hope town to accept a youth director position for the island little church. little but active.
incredibly alive!
the oldest of the youth group raise money for a mission trip.
and mary and mike have both been heavily and heartfully (if that's not a word, it SHOULD be) involved in a program called
TEAMeffort
.
the thought in my head: perhaps, much like
hold that hug!
we can post pictures of hope town and have print proceed sales being directed to the good works of mary's youth group. more on that to come.
-finding sea glass on the shores;

-seeing mary's face just LIGHT UP when mike finally walked through those airport gates;

-hearing hip-high kids call out "miss mary, miss mary" around every bend;

-munchie's hamburgers (and visiting with munchie's owner, morris, each day on our way in + out of the mission house)

-bingo at captain jacks,

-that MOST DELICIOUS chicken curry quiche at the incredibly charming

hope town coffee house

;
-playing KNOCK card game with mike + mary

- paul reading in the yellow chair;

-going to thanksgiving dinner via

boat

and hearing those local stories OMG!

the funniest stuff EVER

!;

-the homemade bread and coconut pie made by the grocery store owner (vernon, who also happens to be the minister)

-and YES! being there for the town's annual box car derby celebration [there's one big hill aptly named Big Hill] . . .
. . . and most of ALL having paul there while he and i: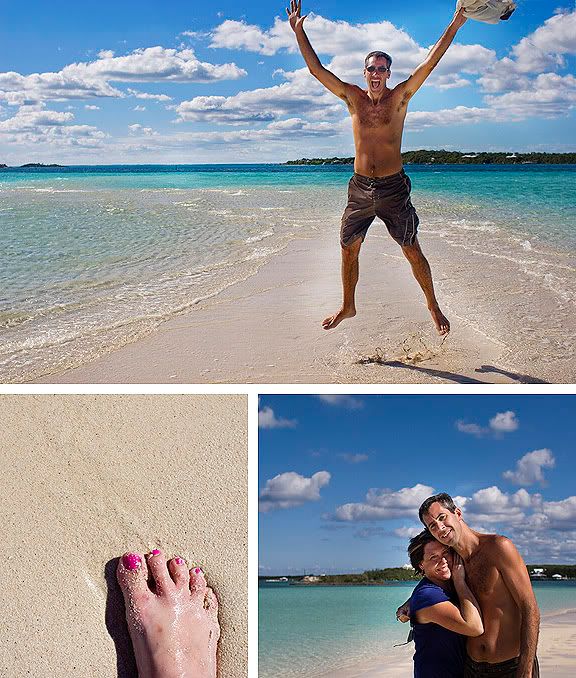 ........got to know, admire and fall in love with mary + mike.
what a week!!
fyi: mary also happens to be an amazing vocalist (and teaches piano, voice and guitar on the side)
and has told SilverBox that she'll record a few re-makes of bee gees tracks for future slideshows.
who are the bee gees you ask?
clearly THIS is as good a place to wrap things up as any.
with love + happiness,
amy