LOVED how stephanie's family members were always sneaking up + hugging each other.
so great!
john + steph
wrote their own vows...can you just say, not a dry in the place!
other highlights: hanging with girls getting ready is a good time but becomes big-time extra-special when nieces, cousins, an aunt, a mom + a sister surround you

in addition to

your very best childhood friends:
steph's oldest neice actually LOST A TOOTH just before putting on her blue dress. does the tooth fairy pay extra big when that kind of timing is in play?
(and annika, way to be there to catch that!)
below:  a moving, "quiet emotion" shot created as steph's dad came into the room: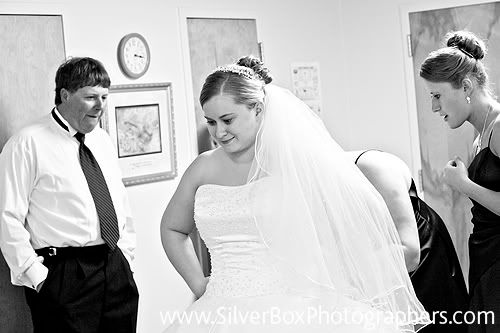 and the next picture just makes me happy in a (generational) grant wood american gothic kind of way:
we've got great ceremony images, and such fun shots from the reception, too . . .
suggestion: first listen to STRANGE JANE! then find even more, lots more, via iTunes.
out of the blue people will sometimes say "where are you finding all that music?"
[oh! there's a lots about this ol' internet to love....]
stay cool. stay happy.
amy