i love this picture of andy + sarah. love. love. LOVE it!
it seems i'm often shooting "tight" hoping to isolate a moment,
more like this:

ok, i love THAT, too. but it's nice to step back and see the big picture.
the school house b+b is a perfect place for a bride to get dressed.
oh that downstairs dressing room is convenient, calming and the just outside --
the ideal setting for a few backyard bridals.
hot HOT hAut!

this next part of the story is one of my favorites. andy's sister erin and helped sarah into the back.
as erin rounded the corner and came down the stairs, why who did happen to run into:
yep, andy! are you just saying "aaaaaaah!!!" about now?
the SchoolHouse patio was also a great place for groom's party to convene. what fun guys!
what a breathtakingly beautiful wedding party!!
(so just so you know, erin didn't wear that purple t-shirt to the wedding, there she is again, back row center:)


but WAIT we're just getting started. program anyone??


sarah carver is an incredibly talented woman and comes from an amazingly artistic + crafty family.
her aunt MADE her dress!!!!
AND family members made THIS ARBOR and handled all the on-site decor, too.
wow.


and it just keeps getting better.
OMG are you just in love??
[and note that plaid wedding-colors sash! ~ they thought of EVERYTHING!]


and oh the joy + happiness!!!!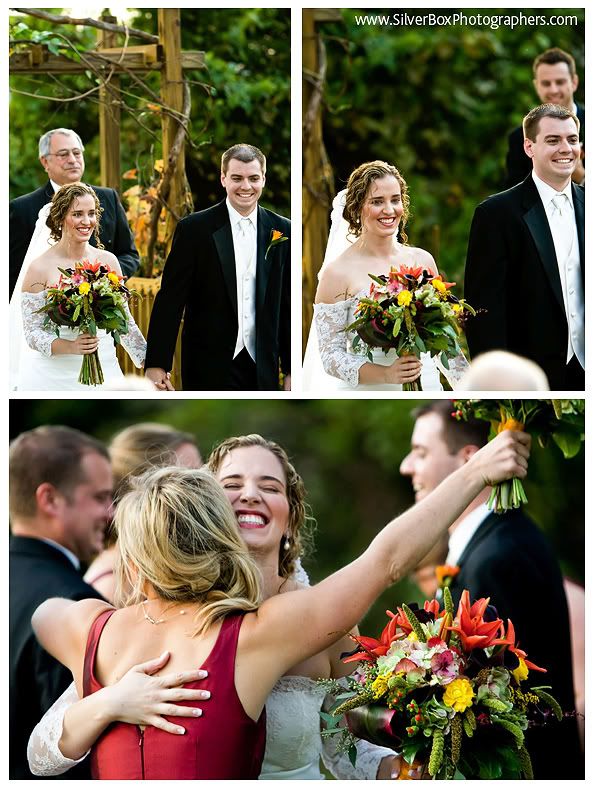 inside the bistro was EQUALLY amazing.
for the record: KENT's did the bouquets - and oh-la-la! what an amazing job Kent did . . .
but the rest of this, including monogrammed table runners, centerpieces, and even monogrammed PUMPKIN!
~ sarah carver's fam:


what annika and i loved most of all though, was SEEING the love, the respect, the relationships between these remarkable folks.


sarah + andy, what a joy it was to document your celebration.
BUT WAIT, there's EVEN more ~ CLICK HERE for the slideshow.
it's a perfect autumn weekend, friends -- get out there!
~amy enderle