Kristan + Bryant met me at the airport with a sweet handmade sign and the magic words

"are you hungry?"
With a place like
Terzo
who wouldn't be hungry! Here' a discovey thanks to Terzo tapas: BEETS....beets are a
real
vegetable

~ that vinegar thing and wacky color...just some midwestern deal I suppose.
And then, aaah, what better ending to a weary travel day than a comfy and fabulous boutique hotel.
The Hotel Drisco was a most scrumptious place to stay. It's in Pacific Heights just a block or two from Kristan + Bry's new place and oh so divine. Here are three of the first images I shot as a walked out of the hotel that morning. Aren't you just LOVIN this town!
We started shooting at Lafayette Park, a great historic park down the street from their place. It's a leash-free dog park and so much more. Yet dogs really are the park's primary focus as you'll note when you catch a glimpse of park signage in the slideshow.
And look at this. What a C-H-A-R-M-I-N-G place Kristin + Bryant live:
Then to Rose's for brunch, another one of their favorite local spots. Again, yummy, yummy! I took pictures (yes, even of the food -- it's the kim wade in me!) but you'll have to peek at that slideshow for the results.
After Rose's we drove out to San Francisco's Legion of Honor.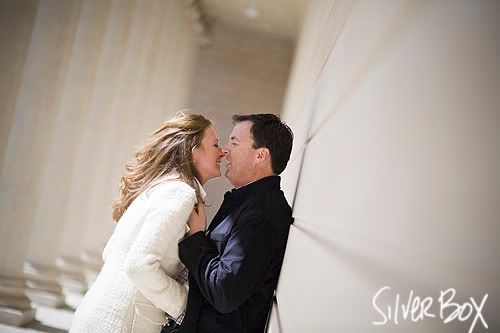 Another discovery: Where do you think Rodin's "THINKER" is located?
OK, but would you have guessed San Francisco if that wasn't the theme here?
Aha- gotcha.
Trick Question.
The Thinker IS in Paris, and there are also casts in about 20 other places around the globe. In Paris, specifically you'll find him thinking at the Musée Rodin, which was opened in 1919 in the Hôtel Biron and surrounding grounds to display the works of yep, French sculptor Auguste Rodin. [Isn't the Silver Lining a great place to learn stuff!] Back in San Fran, The Legion of Honor has a TREMENDOUS collection of Rodin sculptures (more than 70 according to their website), including THE KISS . . . but wait, there's more:
Chihuly (BIG Chihly) is here, too. (Now could you just please take a look at this, ...it's Dale Chihuly's site....now really, shouldn't we send him a note hinting that he should bring SilverBox out to take stills for him? See how cool it CAN look via that slideshow.)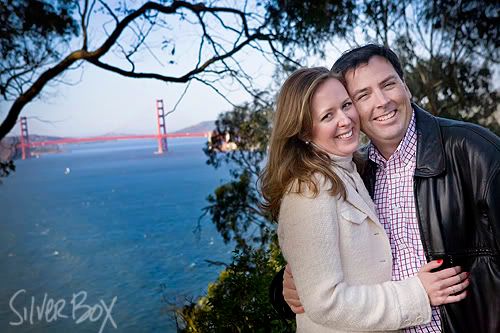 By this time it was mid-day, so staying inside for awhile seemed perfect.

Kristan (who's brilliant as well as beautiful + kind) had thought all of this out and proposed that we all see the (drum roll) Annie Leibowitz "A Photographer's Life" exhibit while there. I feel so lucky to have had this opportunity! This show (a retrospective based on Annie's book by the same name) is nearing the end of a 7-stop tour. After May 11th it leaves the country, going next to Paris and then the final stop: London's National Portrait Gallery. I have lots of thoughts to share based on seeing these 200 images...but am going to save all that for another time. We were after all, really just getting started.
This next image (which I adore) was taken just outside the Legion of Honor which seems to go by a few different names, including:
The Fine Arts Museum of San Francisco, which I think officially houses de Young Musuem as well as the the (officially titled) "California Palace of" the Legion of Honor.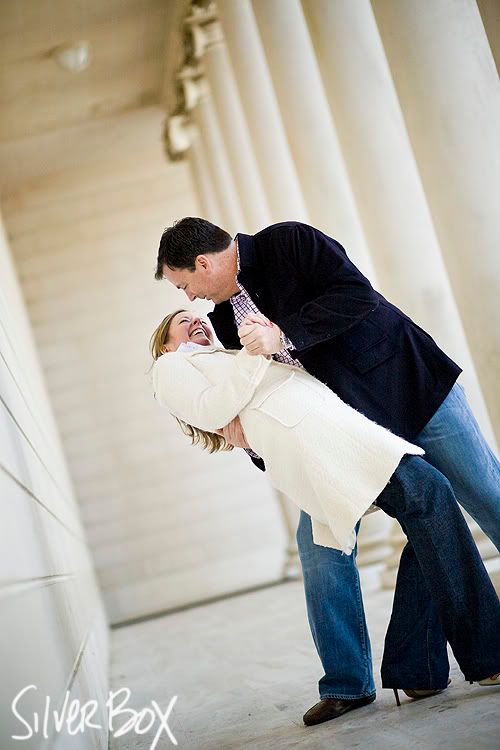 Then, we all took naps :)

Well, except for Bryant who opted for a work conference call instead. But can I just say that not only is Hotel Drisco a lovely place to spend an evening. Whew, it's PERFECT for a mid-afternoon siesta!
And look at this beauty, this is the Palace of Fine Arts...breathtaking!
As the sun was preparing to set, we made our way to the St. Francis Yacht Club. The site of THE proposal. I kept pulling out more speedlight flashes not realizing we were putting on a bit of a show for the diners inside. Here's the thing though, everyone EVERYONE loves a couple in love. We walked back into the building to applause. Gotta love that!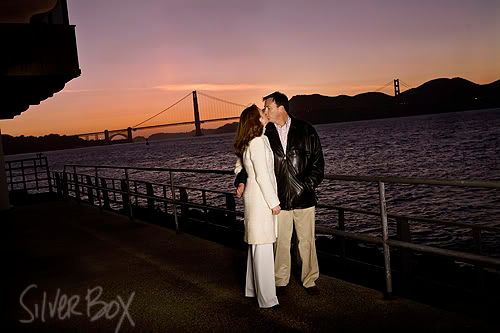 We called it a day with dinner at Frascati, their first date spot ~ and yes, I have pictures of THAT meal, too....but hey, gotta say goodnight SOMEWHERE.

What an experience.
What a couple!
Bryant and Kristan, thank you so very much.
Am so looking forward to meeting your families this May!!! ~ amy