yellow. LOVE yellow!
it's like sunshine all around ~ streams + beams + flecks upon flecks of happiness!
kristan + bryant are our "san francisco couple"
but kristan returned to her roots to throw a "destination wedding" back on the farm. growing up, she'd spent many a missouri summer with her grandparents, aunts, uncles + cousins and since "there's no place more dear to my heart than this farm" they invited their friends + family from all over the country to "come home" for a charming taste of mid-missouri life. a blackwater, missouri BBQ kicked off the wedding weekend with sauce! what a neat little town!! and WOW what great signs pointing us in the right direction (and read the blacktop signs from left to right . . . "AA.H", so cute!)
speaking of signs; hmm... can you see their "wedding mark" on this one??:
there's a cute little hand-drawn chapel but it doesn't seem to be showing up on the blog so well.
hmmm.....
try this; peer into the collage at the top of the entry...see it? kristan's mom turned it into
their postage stamps
, too!
any guesses as to the hand that drew that quaint little church??: BROOKE's! (of
ORIGINALS
)
the whole invitation ensemble was just the cutest!!! have we told you that brooke is married to one of the world's greatest guys?
brooke + allen are quite a team
* and when they're not training for triathlons, laying out magazines, designing custom never-before-has-there-been-another-like-it invitations, playing with their dogs, hand-addressing hundreds of envelopes or (hooray!) making
Originals Box Sets
, it seems they make GREAT SIGNS!!!
Smith Chapel is just down the road from the farmhouse. the original congregation was organized in 1824 (just 3 years after missouri's statehood) and kristan's family has been members for generations. it's LOVELY!
thinking of things i love ~ i LOVE the above picture of kristan's grandma watching her walk down the aisle!! she and her dad made their way up the aisle to a
BRASS QUINTET
~ the sound flooded that little sanctuary beautifully! what a great, memorable touch!! hee-hee, here's one-fifth of them ;)
more ceremony sweetness:
BOTH of kristan's grandmas pictured during the ceremony (below) ~ oh how great!
what a neat little chapel! what great tradition!!
(big thanks to bryant's big brother for holding our lights on this one!)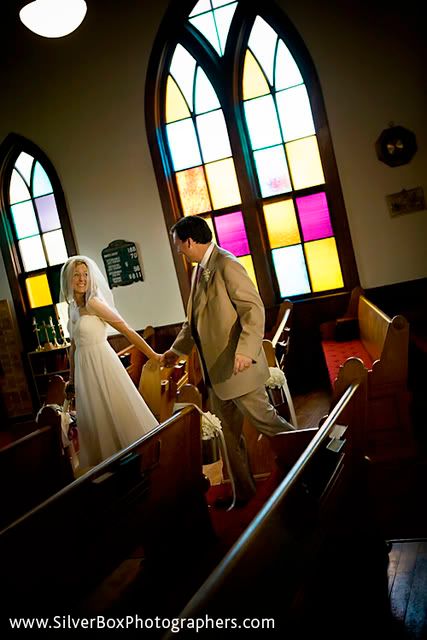 pure joy!
this bell was dedicated in memory of kristan's grandpa. annika even got pictures of it being installed just an hour or so before the ceremony (you'll see that on more in the slideshow -- click here!)
after the ceremony and bell ringing it was back to the farm for a scrumptious Upper-Crust-catered meal!
good food:


good wine (shipped in for the occasion from one of the couple's favorite sierra-foothills-area wineries: Hatcher Winery)

great company


a most perfect setting for an intimate gathering of their truest friends
a perfect summer evening on every front
AND the icing on the cake...

ok, i meant the metaphorical icing:
thom howard, live and in person delighted kids and adults alike.
thom's album is titled "a guitar is just a guitar" but wow; is sounds, and FEELS like so much more.
AND, the part i really love: thom can take a favorite song, YOUR favorite song and create a fingerstyle arrangement to play just for you. how cool is that?! and the song you'll hear on kristan + bryant's slideshow he recorded for us by request. so many thanks to you, thom . . .
and BIG THANKS TO YOU kristan + bryant (and your friends + family)
we feel so lucky to have documented your day . . .
enjoy the slideshow! your Originals Box Set will soon be in the making . . . yeah team!
~amy enderle
----------------
*keep up with them via brooke's blog, here: www.originalspaperart.blogspot.com