there were so many wonderful and touching things about joe + miriam's wedding, it's hard to know where to begin.
* the look on her grandma's face as miriam's mom and best friend helped her into her wedding dress (with girlriends gathered 'round)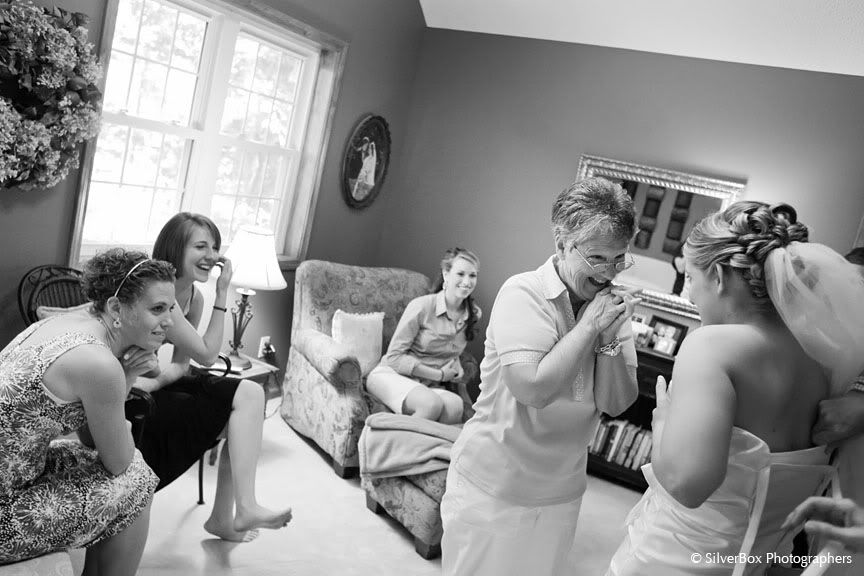 * that annika miller was on hand to make THIS of joe while i was inside making this picture of miriam!
*that miriam's dad walked her out the front door and toward joe awaiting miriam at the very spot he'd proposed . . .
. . . proposed on this shared "love rocker" if i recall  :)
* the casual and loving feel of our planned / group shots
(having everyone gather in ONE beautifully lit spot creates a no-stress, low-key and efficient way to accomplish this goal)
* that both annika AND karen were available to help document this unforgettable wedding [at miriam + joe's rehearsal when i saw the shape and layout of the auditorium of their church, i realized having not just two but three camera angles would be the ideal coverage. and how lucky we were that karen eagle was available!  ~ thanks, karen!!!]
OK, before i go much farther RUN don't WALK to this link. i think you've just got to see this all for yourself! click here to link to miriam + joe's wedding highlight show
more amazing aspects of miriam + joe's wedding:
* the signing of the quaker marriage certificate that i first learned about during sarah starbuck's wedding
and what a great job brooke of originals paper art did on crafting the perfect certificate for miriam and joe!
* the minister's message.  some background:  miriam's dad is a minister, but he opted to stick exclusively with the father-of-the-bride role on this day ;) and miriam + joe both plan to go into ministry as well ~ it really resonated with me that Pieter (their friend and wedding pastor) said so clearly:  make your marriage first. put your marriage before your jobs and other passions. making your marriage strong, making time for each other, THAT'S the most important thing you can give.
* the charming reading by ted loder that started this way
Wondrous Worker of Wonders, I praise you not alone for what has been, or for what is, but for what is yet to be, for you are gracious beyond all telling of it.

I praise you that out of the turbulence of my life a kingdom is coming, is being shaped even now out of my slivers of loving my bits of trusting my sprigs of hoping my tootles of laughing my drips of crying my smidgens of worshiping; that out of my songs and struggles, out of my griefs and triumphs, I am gathered up and saved, for you are gracious beyond all telling of it.
* the very song you'll hear in THIS slideshow (and meeting the family of Chris -- the guy who sang it)
* that miriam's grandpa drove the getaway car:
* that i FINALLY got to meet niki + jp!
* pink paper lanterns and sweet sweet karen eagle's eye ~ could there be a better reception combination?
* the amazing, bubbling, unstoppable spirit of their friends, their family and miriam + joe themselves.
oh how lucky we are to document such joy.
hugs all! amy