Jenny + Daniel's wedding was just too wonderful to not share a bit more....
How nice of Jenny's bridesmaids (and their moms + friends) to host a ladies-only luncheon on Friday ~ what a fun event to document! Friday was a blue-sky feels-like-spring kind of day.

And it went from spring to SUMMER as guests entered the Tiger Ballroom for Friday night's rehearsal dinner. A basket of flip-flops was awaiting with a sign that instructed all to take off their shoes "you're at the beach!" Kent's Floral Design had done a remarkable job transforming the historic ballroom into a tropical paradise...of course the steel drum band really helped set the stage.

The weather was less-than-ideal on Saturday (plus it had rained Mon - Thurs and the ground was pretty much an over-saturated sponge) but thanks to having pavement at the
Country Club of Missouri
for the tent's foundation, all carried forth as planned. And good call, Lerea having those heaters reserved!
There's nothing more fabulous than a lovely wedding inside a tent. (Even if the sun refuses to shine outside.)

OK, perhaps things are a bit more fabulous when you call in the Marines! (Daniel, his dad and all of his brothers have served in the Marine Corps with his youngest brother / best man, pictured below, just getting into town a few hours before the ceremony)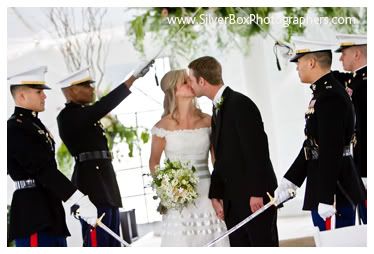 Not only had
Kent and his staff
transformed the
Tiger
the night before and decked out the tent that morning, when we arrived we got to see the transformation of the
Country Club
from its "business-formal" standard to ENCHANTED! wow!!!
almost all the floral decor was made on site.
[have we said "wow!" yet??]
note this garland-drenched mirror above the buffet PERFECTLY FRAMING this delicious
Edith Hall cake.
If there was a ledge inside or out,
(see above and also below)
 why of course there were FLOWERS!
even flowers in daniel's neice's hair.
how sweet!
Annika created some amazing ceremony images, like this one of Daniel with his dad over his shoulder (note a family resemblence?) seeing Jenny start down the aisle.
That "being enveloped by family" is one of our favorite things about wedding. 
Some of the images we most love capturing are the "reaction" to the height of the moment....
...so Daniel was repeating vows (this image by Annika) I was able to capture
(scroll down.....) 
their enveloping families :)
at this point we've told you that daniel + jenny's wedding celebration included wonderful, supportive, happy families; charming children; a beautiful bride; a handsome groom; caring, thoughtful friends; flowers dripping from every surface; firm ground below and warm air on our skin as well as
marines
protecting and guiding us...
could a wedding get ANY BETTER? well, yes:

(how cute is Frank La Mantia helping Daniel's nephews fully drench their marshmellows + strawberries in the melted chocolate...) BUT WAIT, W-A-I-T there's even MORE . . . . . Aaron Rose, fabulous [FWB] DJ for one, and ok, EVEN MORE... maybe pictures will be more comprehensive than words:
if haven't seen this slideshow, you have no idea what you're missing...it may load a wee bit slow (?) but it is SO WORTH the wait.  PLUS you'll be hearing the uber-talented Hilary Scott. Buy her CDs...you won't be disappointed!)
Daniel + Jenny....it was an honor and a pleasure. 
Thanks so much for having
SilverBox
document your day. We loved, lOvEd, LOVED!!!! every minute of it! ~ amy enderle