so i dropped in to say goodmorning to jana and the girls
(they'd had a

slumber party

at her parents' house the night before)
and what did i find but MONKEY BREAD on the counter. (!)
oh that takes me back!
and MORE good news!!
it wasn't long after i showed up that a present from barry showed up, too.
ooooooooh my:
and jana had found (and created!) something INCREDIBLE for barry as well: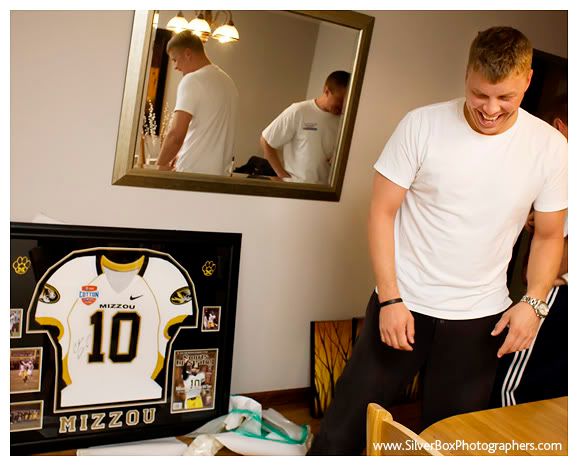 (that's a signed and framed jersey ~ and beside it, one HAPPY barry and a few envious friends.)
beautiful, thoughtful and kind.
oh jana!
what joy!!!
december in missouri is generally less-than-lovely,
so we'd brainstormed about special locations for their "first look" and wedding party picture.
see what we found:
when we create "first look" pictures like these:
it's hard to believe any couple would opt for the "not see each other before the ceremony" route.
you just don't get these expressions at the top of the aisle. (nor the just-the-two-of-you moments.....)
[OK, that came out stronger than intended....see caviat (*) below]
but . . . . mmmm . . . . . . WOW:
sometimes portraits get made:
sometimes they just seem to happen!
seeing HOW people FEEL about each other in pictures . . . whew nothing makes us happier.
the first of these below . . . jana + barry's first dance. the second,
much
later in the night.
i HEART them both!
and speaking of FIRST DANCES.
oh THIS is love!
teeeee-heee.
that's barry's brother and cousin back there (yep DURING the first dance, those crazy kids):
[LOVE IT - LOVE IT - LOVE IT!! and destined to be come a family --and SilverBox-- classic!]
when i was little girl i thought my older cousin cherri walked on water.
she was beautiful and smart and sooo grown up!
and she always wore the coolest clothes.
and her hair seemed to always look PERFECT (she was like 17, i was probably 8 or 9)
me: awkward, clueless and hating it. cherri: grace, charm + style.
and she loved LOVED the bee-gees, so of COURSE i did, too!
the result: even today i can "sing" nearly every bee-gees song.
not sing well, but you know.
looking for the reason this "cousin" chatter is included? ~ it's more than slideshow foreshadowing and a walk down memory lane i tell ya:
she was actually called "little cousin mary" and these days she's all grown up but lives and works on a little island ~
but at THIS moment in time,
mary day
is in a supporting role and oh we love her (even more) for it.
and barry, jana, mary day (for the music),
annika miller
(for some amazing photographs and your wonderful assistance)
thank you so very much for inviting me into your lives.
life is good!
~amy
*there are at least two other great options if your day or ideals don't lean toward incorporating a "first look" --
one is what
kristen graham and adam brown
did: when they walked out of the church, they spent some "just the two of them" time before their friends and family joined them. they'd "Seen Each Other" only during the ceremony, but hadn't really had a chance to "Be Together" -- we got some stuff!! the other is what
jodi + scott
and
natalie + ryan
did: they left time after group pictures with everyone else had been created for time just for the two of them. their ceremony had been early in the day, so their couple pictures were the last thing they did before joining their reception and thus we created pictures of the two of them in the best outdoor light of all.
ok, and now and embedded view of the unfolding of barry + jana's day. ENJOY!