there are at least a dozen reasons grace + levi's wedding made my heart sing. some really big things (like when families are close + simply love laughing together) and some smaller elements that are so very YUMMY! like this fabulously fun, visually stimulating wedding palette:
and stumbling upon this painted brick wall while heading over to the reception:
but i'm getting ahead of myself. so CLICK HERE if you interested in a more chronological telling of grace + levi's wedding highlights or keep on scrolling to enjoy the journey of a little behind-the-scenes narrative. :)
grace got dressed in her house ~ a great idea!
and how fun that all the girls (bridesmaids, cousins, hooray!) were already decked out in tiffany blue before grace stepped into her dress. here's one of my most favorite moments, not just of THIS wedding, but perhaps ANY wedding we've documented to date:
grace gulped and said "oh, i'm feeling a little nervous" and her sweet mom's reply:
"you know what we need? ~ a song!"
and pictured above, grace's bridal party's impromptu performance of "going to the chapel"
aren't these dresses GREAT! all the same color and fabric, yet with individual style:
did i mention that grace is from a large family? here's her mom's side alone:
oh, and did i mention how pleasantly surprised i was to bump into to my college "health & wellness" instructor at friday night's rehearsal? ~ yep, coach pitney (very center, above) is grace's grandpa! who knew??!
excellent EXCELLENT seeing on this next one, annika! here's the "just before grace and her dad walked up the aisle" moment:
and look at annika go! clearly our cool shooting assistant walked in behind grace + her dad and snuck up the side aisle to capture THIS just moments later (love it!)
what a wonderful ceremony! so many unique touches. grace's sister, who has the voice of an angel (an angel with sweeping vocal range, pizzazz and great élan) sang an original song (with lyrics that grace poetically penned)
and here's the moment, after lighting the unity candle, where grace + levi hugged their parents and grandparents, too.
not a dry eye in the house.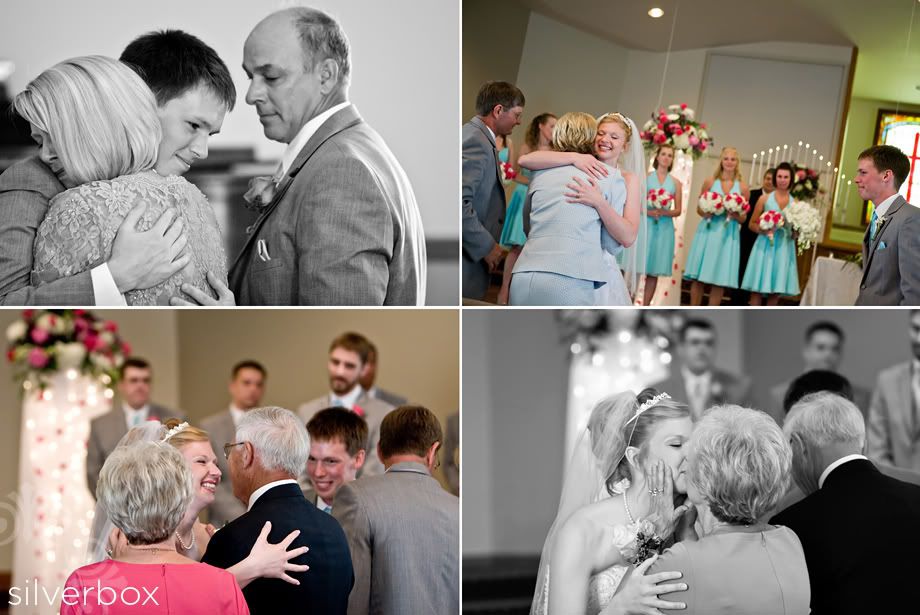 we tend to lurve that instant just before the kiss even more than the kiss itself.
doesn't this next picture just make you say mmmmmm....
we had just enough time between the ceremony and their reception to spin through town, finding not only that red brick wall above, but time to share an ice cream cone! :D
2 more we just LOVE:  one, this shot of the boys!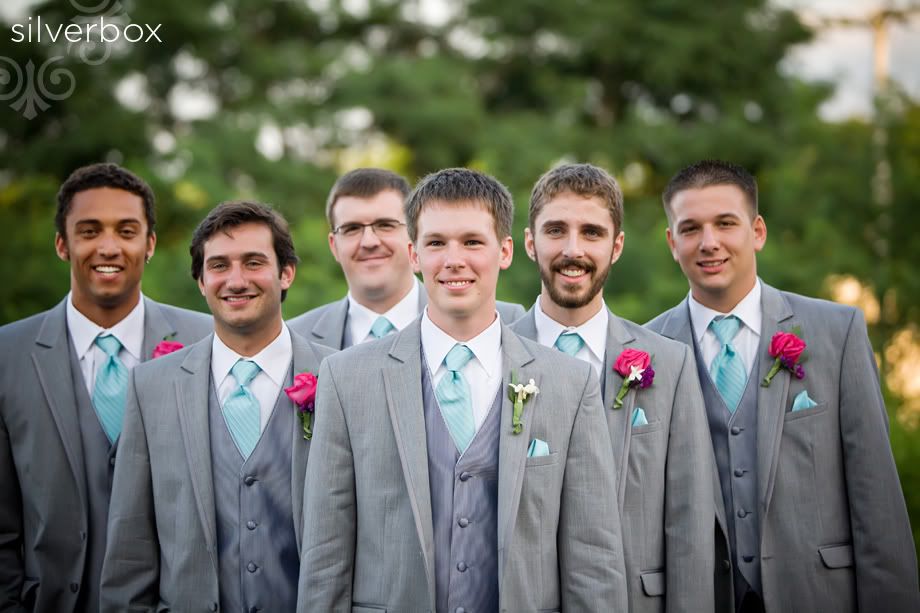 and 2. would you look at this!
sometimes elements like parking lots and power lines don't lend themselves to great group shots, but HERE, just steps outside of their reception, oh my goodness, every element seems to work FOR not AGAINST this composition.
the position of the girls' hands in relation to the power lines (that seem just out of reach) makes me think of a sports team leaping for lines on a gym wall. even that arrow (positioned under "the winner" perhaps?) seems perfectly placed.
as always, there's a lot of luck involved. luck in being in the right place at the right time (with the right lens!) luck in reconnecting with old friends. luck in our couples contacting us in the first place. and luck in that we're able to do THIS for a living: taking pictures of moments that really matter to people. LUCK, unless of course, you're thinking Jonathan Livingston Seagull, my 5th grade favorite:
"Nothing happens by chance, my friend... No such thing as luck. A meaning behind every little thing, and such a meaning behind this. Part for you, part for me, may not see it all real clear right now, but we will, before long." ~ Richard Bach, 1936
we do feel lucky to have documented your day, levi + grace. wishing you a lifetime of happiness as you soar with your dreams. ~ amy