great people befriend great people ~ oh how we know it to be true!
when i first met erin at the bradley-robinson rehearsal dinner, she was seated at a table surrounded by doug's groomsmen and ushers
 . . . 
(you know that feeling, the lone woman in a group of guys who have stories that go waaay back . . . ) 
i remember being completely impressed at how well erin was holding her own. 
spunk and gumption were my first impressions!
and really, does there exist any BETTER first impression!!? ~ not in my book!
we landed a primo day in KC of MO! -- look it's like Leaf Parfait out there!
this, too, is on the lawn of the
nelson
. . . but it almost looks like we're out in a meadow somewhere, eh?
yeah, we admit it, kim and i "do this shot" quite a lot. 
but LOOK how CUTE it is! ~ especially in front of the church erin + mitch will be married in in a few short months!
next up:  a quiet little spot on the church grounds i sure hope we can revisit in march. 
LOVE IT! (and LOVE that moment just
before
a kiss!)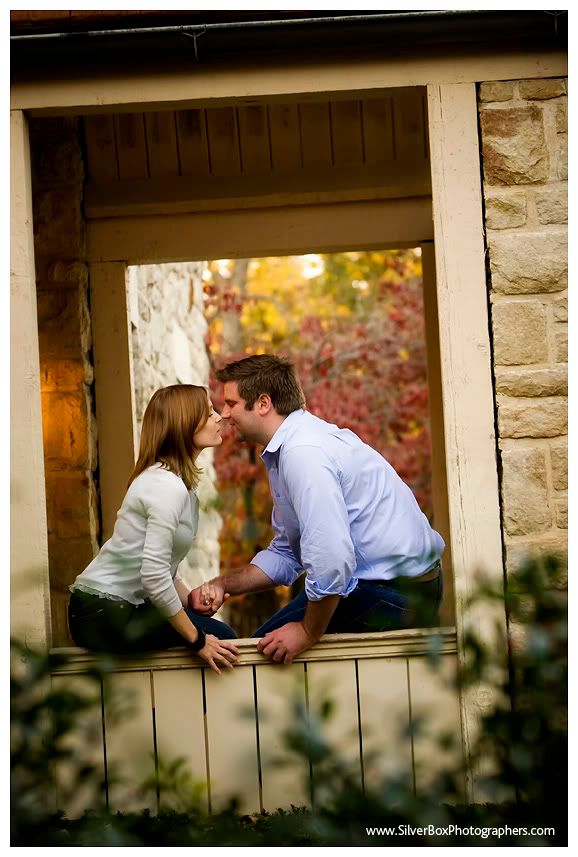 spunk, gumption AND GREAT aesthetic sense, too! 
what a cute color combination peeking in erin's front door!!!
. . . and cute shirts, too! makes me think that all "college wear" should be vintage wear.
and THIS NEXT ONE. oh, definitely one of my favorites of the afternoon 
(but
click HERE
, or just keep scrolling, to see nearly all of them!) 
and for it me it brings back such a laugh when i think of
erin + mitch
saying, 
"what?? in front of the GARAGE?! ~ but we

raked leaves

all morning long" 
please pay particular attention to the wonderfully pristine quality of erin's yard, ok?
(b/c it did look GREAT, but is but ONE of the dozens of cute + fabulous things about this couple!)
~amy
PS don't forget to have a look: