without a doubt we want to get this kind of classic (yet refreshingly modern if i do say so myself) head-and-shoulders tightly cropped bridal of you on your wedding day . . .
and oh how we strive to get THIS documentary action shot: the exiting the church as husband + wife picture: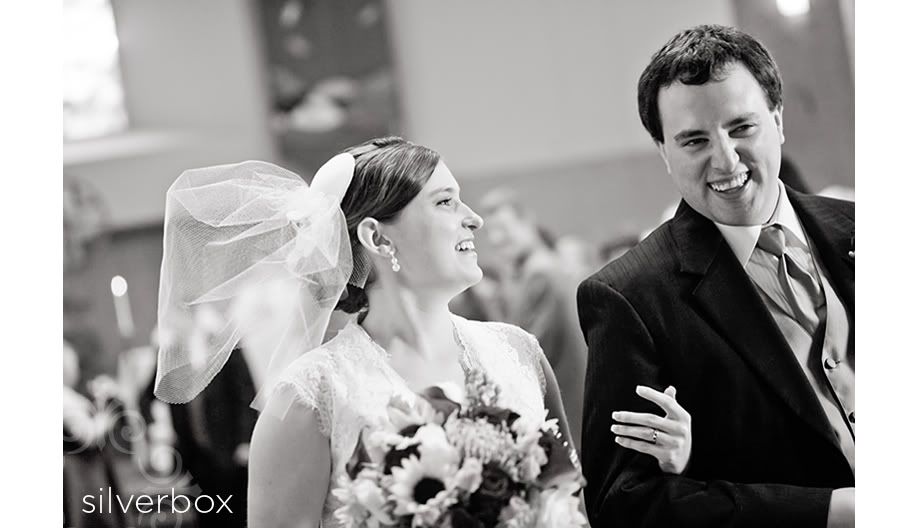 and but of course hot haute pictures of just the 2 of you:
AND what we really love is to be IN YOUR SHADOW.
we find those behind-the-scenes unplanned moments every bit as photographically interesting, memory-rich and important as posed images, (though we're happy to create planned group shots & fashion-focused images, too).
In the picture below, for example:
That's Elizabeth's MOM in the back looking at her daughter and seeing her daughter's future.
There's so much going on here that I just love:  the unspoken dynamic between mom and daughter ~ that special mom-girl combination of  pride, joy and the reminiscing of fleeting moments of the last 20 years...
Photographically we talk about layers and whosh are they ever evident here:
and there's yet another kind of behind-the-scenes coverage that just delights us to no end:
the visual feeling of rush and anticipation leading up to the wedding. the lovely yet blury speeding forward of a day not just the bride, the groom and the moms, but also that so many friends and family of the couple has eagerly awaited. is it a little bit like a sailor shouting "land ho!" ?
the excitement and flurry of the motion ~ now THAT's story-telling wedding photographry :)
and one more "category" of picture we provide our clients that makes us jump for joy:
the 2nd shooter nailing timing, composition and exposure from just "off-camera"
annika miller, YOU are a treasure. the shot above = priceless and damn near perfect.
and so once again i find myself with many people to thank.
wes and elizabeth, of course, ~ and the moms and dads who raised such gracious and lovely people.
their siblings and friends who give us the chance to be in the inner circle on this most important of days and
(with 3 cheers!), assistant shooters who we count on, laugh with and love to watch grow.
feeling the glow
~amy
PS and OH YEAH, there's THIS FANTASTIC SLIDESHOW with a brand new (to me!) song that i first heard during wes + elizabeth's first dance. the version you'll hear is by mike doughty and in just a few hours i've become so smitten with him, i just downloaded the whole album: Golden Delicious! (my kind of name for my kind of tunes....enjoy!)