sometimes my kids think i have such a boring job . . . the part they see is me-at-the-computer-editing + post-processing. (how fun can THAT be? they think) OR they find me ("mom, again??") listening to looping/repeating song while creating a slideshow (like this one) -- but see, it's such fun music what's not to love?)
News to report, however:  the editing + slideshow creation of
amy + kyle's shoot 
was an entirely different matter. 
THIS TIME, my "little" kids thought it all so amazing, fabulous! they were nearly green with envy....
was it amy's pretty hair, or sweet smile or the way kyle looks like the kind of guy who'd say "sure, you bet!" if zoe or tycho said "hey wanna come play tag/hoops/toss the football with me?"
though all those things might be true, their sudden interest is because we started shooting amy + kyle's session at their brand new house . . . see what i mean:
yep, it was OZZIE that had my kids standing in my office watching the editing of each image and saying things like"wow, Mom" and "SO cool!" and at times "no fair"
W-H-A-T-?-!-?, why didn't Ozzie get to go with you downtown?

Tycho (who along with Zoe, LONGS for a dog of his own) screeched aloud

[hey amy + kyle, need any eager dog-watchers?]
next amy + kyle and i (sans oz) popped into recently opened
Billiards On Broadway
for a quick game of pool (that, for the record, amy well,
almost
won) ;)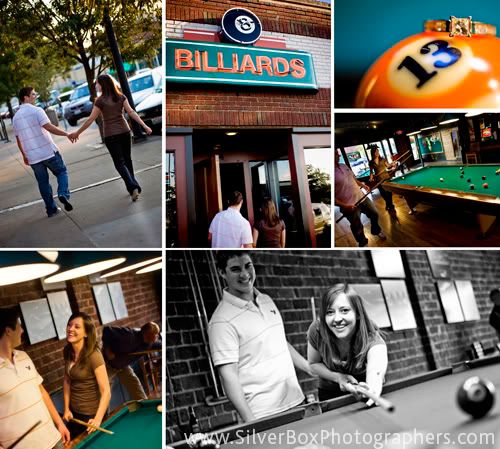 what a great addition to downtown!
LOVE this place.
PLUS you can get a chicken salad sandwich and glass of wine with your game...now that's MY kind of pool hall. but i'd be remiss to not tell you about the burgers and fries.
(plus, click HERE for great specials)
it's the real deal . . . just with wine and gourmet sandwich bonus. WOW.
side note: paul and i actually took all of our kids in over lunch one day a few weeks back. it was rainy, paul was off work, and i was needing a quick breather. and there was pretty much no food in the house. we had such fun! (though avery whooped us at 9-ball - like 3 games out of 4 whooping). paul and i played a lot of pool during our dating days -- there were a few tables in the student union building and we'd even sneak in a few games between classes. whoa that seems like a million years ago. were we THIS cute together?
(that above question btw: hypothetical)
perhaps my favorite images of the shoot (though i, too love OZZIE, but sure love golden light, too): look at the light (and the love) while amy + kyle walked out of Billiards on Broadway:
ooh la-la:
click here to see the whole amy + kyle slideshow and hey, stop into billiards on broadway if you get a chance and THEN check back here mid-july to see the pictures of amy + kyle, chapter 2: THE WEDDING.
have a great day, all!
amy enderle