C O N T I N U E D :
quick.
what do you see in THIS picture?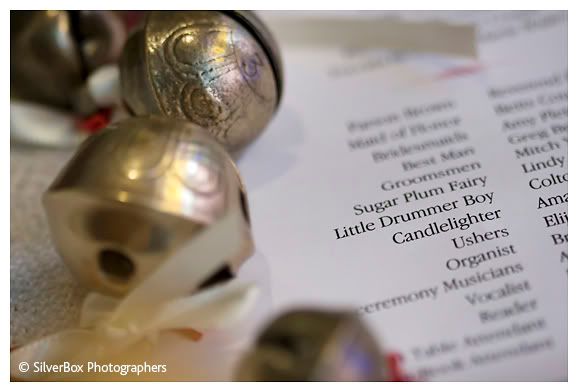 jingle bells.
REAL jingle bells.
and that ring-a-linging you hear: just the tip of the iceberg.
can you make out some of the program text?
instead of a "flower girl" for example, katie + michael had a sugar plum fairy + little drummer boy.
Q. the minister's job description . . . . any guesses?
A. parson brown!
oh what a hoot!!
ok, one more look at those jingle bells.
first with katie's grandpa's scarf (a brilliant idea!) then in the basket with the wedding program scrolls (ditto.)
when i first met katie, she had a binder of inspiration + design clippings with her.
for years she'd been noticing, collecting (and this is the real genius: ORGANIZING) great ideas.
simply put it was this beautiful array of things that had "caught her fancy" ~ ideas for you name it: decor, color palettes, hair styles, fonts ~ wedding inspiration and beyond.
it was a traveling design board in a binder i tell ya, and i LOVED it!
knowing how many years she's been envisioning and how many months she's been implementing made it all the sweater to see katie fully enjoy her wedding day moment by moment:
now if you've rounded up jingle bells for every guest, why not have a sleigh, too??
yep:
the above picture taken by the amazing annika miller during michael + katie's "first look" ~ i was peeking from the ground level and annika perched from above. LOVE it!
but WAIT. there's so much more to love.
from friday night's rehearsal dinner:
to the milk + cookies they served their guests near midnight at their wedding reception (these shots are annika's, too!)
katie + michael's wedding was simply chock-full of joy, laughter, one whimsical idea after the other and, most importantly: friends!
aren't girlfriends just the greatest!!!
at every age!
another fun before pic coming right up . . .
so traveling to the wedding, the candlelighter, her kid sister (aka sugar plum fairy) and uber cool mom (see above) reported working thru the "genius test" and when the girlfriend gang heard of such a test being out in the car, shouts of "bring it on" were heard round salon.
it may have started out as amanda's middle school project, but it proved to be fun for all.
have you tried it?
click here
for something similar online. fun times!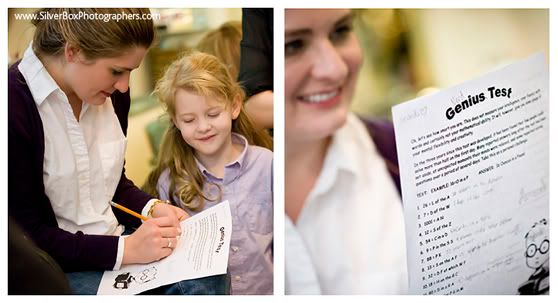 3 more favorite things in no particular order:
a. a snow-topped cake that smelled so yummy, vanilla aroma filled the room
b. silver, silver everywhere (including buckets hanging off trees!)
c. katie + michael's first dance!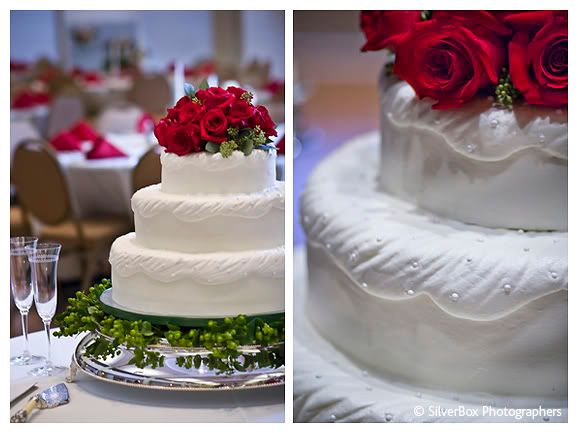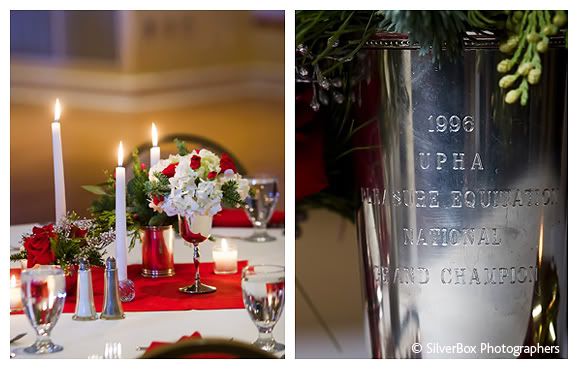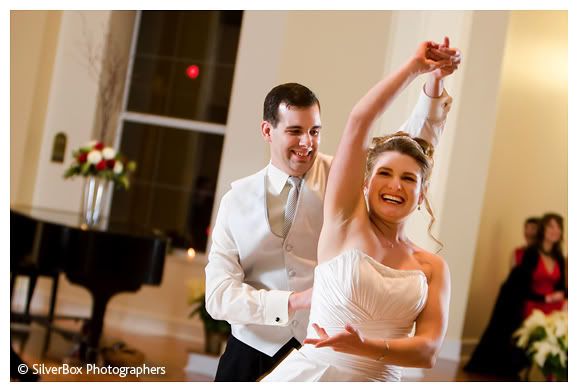 and there's a SLIDESHOW for you to see. hooray!
oh katie + michael (+ friends. oh how i LOVED those girlfriends!!!!) a dozen thank yous for letting me document your wedding day. loved LOVED every minute of it!!!
~amy
PS venues + vendors
it's always such a joy to be at Stephens College. the kimball ballroom is second to none!
thank you thank you THANK YOU amanda for making us feel so welcome.
invitations, programs, stationery, paper design: brooke of originals paper art.
(and she + handsome husband allen will be handbinding katie + michael's Originals Box Set, too!)
click here to see brooke's blog entries about katie + michael's wedding stationery.
cake: hats off to the SUGAR LOFT; this is the 2nd wedding i've documented with a Sugar Loft cake, both not only looked terrific, they TASTED DIVINE! guests where chattering about it ~ now that's a good sign! katie actually found out about the sugar loft by reading the Silver Lining ~ aah, even sweeter!!!!
flowers: christy + co, booneville
we LOVE wedding coordinators ~ oh how they make EVERYONE'S life easier ~ especially the mom's!